What to expect during your session
On the first visit, clients are asked to complete an intake assessment including a medical history in order to clearly identify the issues to be addressed. Also at that time, the therapist will determine if any therapy modifications are required due to the client's preferences or medical factors. The client is also given the opportunity throughout any session to request modifications to their treatment, and is responsible for determining the depth and intensity of the work.
After a review of the information, the therapist leaves the suite to allow the client to prepare for the massage. Proper draping of the client is used at all times to provide for client modesty and comfort. The table is warmed, scented candles are lit, and relaxing music plays in the background.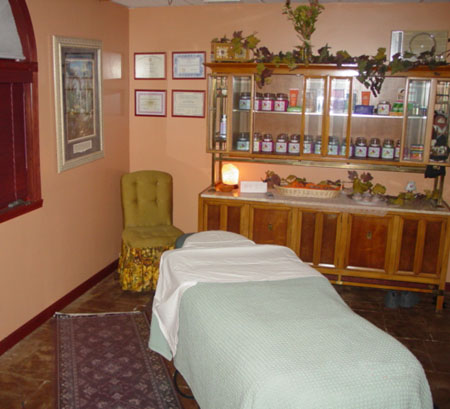 The sessions vary in length of time from half hour to one and a half hours. During that time, the therapist will use all appropriate techniques to address the client's needs. This can range from Swedish massage, to deep tissue work, trigger point work, myofascial release, stretching, neuromuscular therapy, application of heat or ice, scented oils, warming or cooling lotions, breath work, and visualization exercises.
Clients who choose to disclose stress factors relevant to their situations are encouraged to explore the use of stress management techniques. Because of the strong influence of the mind, body, soul connection, we also offer prayer support to those clients who are interested, at whatever level a client is comfortable with.
Also, because many people have issues with bodywork, we try to make every healthy accommodation possible to create a safe environment for the client. Some clients prefer certain draping, or wish to maintain some of their clothing due to past issues of abuse, traumatic medical histories or experiences, or self-consciousness due to their weight or appearance. Some clients wish to only have certain areas worked on for these or other reasons. Other clients under the care of a mental health professional have specific areas to be worked on and need to be able to process emotional responses. All of these things are possible.
Referrals are available to a variety of related health care workers, support agencies, and facilities to help support a client's desire to restore balance to their body, mind, and soul. We are more than happy to coordinate with therapists and other healthcare and support personnel to maintain or improve the integrity of a client's treatment plan.